15 June 2021
SUND vision and recommendations for teaching post COVID-19
VISION
Inspiration for variation of teaching activities and course development to more blended formats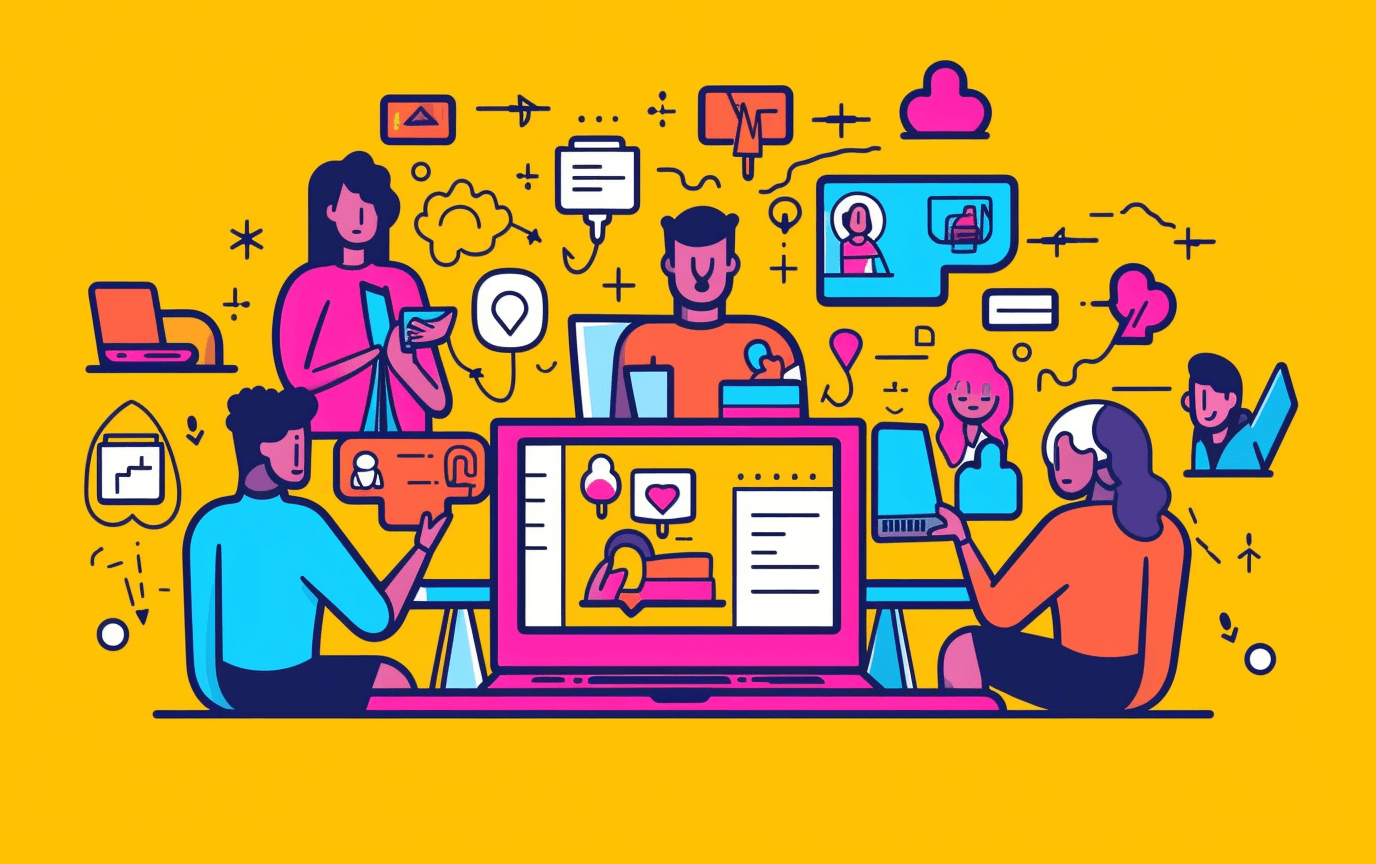 Nicole Schmitt1,2, Anne-Marie Mosbech2
1Dept. of Biomedical Sciences, 2Center for Online and Blended Learning, both Faculty of Health and Medical Sciences, University of Copenhagen, Denmark.
Introduction
The COVID19 pandemics has led to serious disruption of our daily life, social interactions, work routines – and the way we teach. Video conference software such as Zoom and Teams and our Learning Management System Absalon helped us to get through the emergency remote teaching phase in 2020.
Yet, 2020 is past, and 2022 is just around the corner.
We now have the opportunity to (1) learn from the experiences we made under the pandemic, (2) benefit from the massive capacity development within digital teaching skills that occurred under the lockdown period and (3) keep the momentum for developing our courses towards more blended, varied and activating teaching at SUND.
The vision is to take the following catalogue of ideas and recommendations as point of departure for creating a tool that reflects our attempts to develop teaching & learning continuously. Adding new chapters and cases from SUND teachers on a regular basis, we like the catalogue to function as catalyst for
development of digital teaching skills
course development to more blended teaching formats
collaboration and mutual inspiration of teachers.
For concrete inspiration and tips how to create varied and blended teaching, align expectation with your students or foster the social component of learning in digital teaching formats jump directly to
Individual reflections – teacher
.
The pandemic induced questioning the way we teach
Teaching staff, teaching teams and educational consultants will remember year 2020 as a period with enormous efforts to get acquainted with and implement new teaching formats, capacity building, and innovation of teaching formats. Around 450 teachers participated with more than 1000 registrations in courses and webinars arranged by the Centre for Online and Blended Learning (COBL) in the period from 16 March 2020 to 22 Feb 2021. In addition, many teachers sought local or individual support at COBL. Teaching staff spent many hours on the production of new material to support our students' learning such as recorded lectures, videos from lab exercises, demonstrations, to name a few. Teaching facilities were updated with webcams and microphones for remote and hybrid teaching. New initiatives were launched such as live streaming and/or recording as well as training of e-moderators, who quickly became a great resource in supporting teachers in their teaching sessions.
While we, both teachers and students, got relatively quickly proficient with teaching and learning via Zoom, we also realized that teaching activities and courses that already used activating and varied teaching, in general, were the ones that worked best when translated into an online or hybrid format. In contrast, monologue-based lectures and courses apparently left the students less motivated than during monologue-based lectures on campus. Student surveys showed shortcomings in the social component of learning and informal interactions that typically characterize our on-campus study environments.
Surveys among students and teachers revealed challenges – and even more so opportunities
Results from large student surveys conducted at University of Copenhagen in 2020 demonstrated that passive one-way lecturing dominated the spring semester 2020 and that active learning experiences were missing1. Of note, the survey also showed that respondents missed the social and informal aspects of studying on campus, both student-student and student-teacher interactions1.
Hence, the emergency remote teaching efforts in 2020 revealed the need for varied teaching and student activation.
Teacher surveys conducted in June 2020 and February 2021 at the University of Copenhagen2 showed a development of teachers' competences within applying digital education technology raising from self-reported proficiency of 24% in 2020 to 58% in 2021. At the same time, teachers evaluated that the students' learning outcome was negatively impacted by the emergency remote, hybrid and online teaching, though the figures became less negative over time (58% in spring 2020, 42% in Feb 2021)2. Furthermore, teachers stated that they perceived online- and hybrid teaching formats to be less interactive than on-campus teaching, where they would more often use dialogues, discussions, group work, individual or group assignments and exercises than in online or hybrid settings2.
In Feb 2021, >70% of respondent teachers reported that they were good at using, producing or applying digital content. Strikingly, more than three out of four respondents (77%) expressed the wish to further develop own digital teaching competences to foster student activation in their teaching sessions2.
Thus, the capacity development amongst teachers results in a momentum for rethinking the didactic space and embracing technical opportunities to support the pedagogical concepts behind courses.
In spring 2021, study boards, study leadership committees, study reference groups and other committees in the medical, odontological, veterinarian, public health and pharmacological disciplines at SUND discussed which lessons we learned during the pandemic. The feedback showed that there is a wish to embrace good experiences that came along with the efforts to handle the pandemic disruption. Some teachers mentioned that they would like to explore possibilities for introducing flipped classrooms3. Others embraced increased colleague sparring and like to work with moderating online discussions on Absalon or even lecturing in teams.
Overall, it became apparent that many teachers and course leaders aim to experiment with digital approaches and develop teaching activities and courses into more varied and blended formats in the future. At the same time, there is a demand for frameworks and both, didactical and legal guidance as to which measures can be taken without affecting course descriptions, when to apply for approval of course changes at the study boards and when and how to involve study and faculty leadership.
Teachers and educators at the faculty ask for a framework for development of teaching activities and courses.
In summary, going forward and back on campus, we now have the opportunity to (1) learn from the experiences we made under the pandemic, (2) benefit from the massive capacity development within digital teaching skills that occurred under the lockdown period and (3) keep the momentum for developing our courses towards more blended, varied and activating teaching at SUND.
Not only will this have an impact on the quality of our courses, it will also make our organization more resilient towards new forms of disruption.
In the following, we provide some inspiration for going forward as individual teacher or as course team, describe tools for course development, student-teacher and student-student interactions, and conclude with recommendations for the academic year 2021/2022.
Individual reflections – teacher
As teacher, you might want to reflect over which (digital) technologies fit to your didactic concepts with clear focus on the students' activation and learning and how familiar you are with these tools. Likewise important, take into account which technologies suit your personal teaching style. Consider e.g.
which material you have produced worthwhile reusing or further developing into blended (including hydrid and flipped) teaching formats
which experiences you would like to share with your colleague
where you see potential for further personal competence development
…


These reflections on what you are doing in practice in relation to your theoretical knowledge of teaching and learning are an intrinsic part of your pedagogical competence profile.
We recommend that you take notes – by this you will at the same time maintain your teaching portfolio.
Group reflections – course teams
As course responsible and/or member of a team of teachers, you might want to gather the team of teachers and share your views on the course structure – and discuss where you see a need or opportunities for changes. These group reflections will likely help aligning expectations towards teaching approaches, which might be especially relevant for complex courses with many teachers.
Discuss e.g.
the course's strengths, weaknesses and opportunities
whether learning aims and outcomes are relevant or should be modified
whether contact hours (e.g. lectures, seminars, lab exercises) should be restructured
which experiences you would like to take along
how familiar you find yourselves with technology
how much trained you find yourselves in pedagogy
which challenges and opportunities you see for a varied and blended design
which course-specific questions could be worthwhile to investigate for assistant professors participating in the Teaching & Learning in Higher Education program and how to implement their findings into the course development
…
Taken the experiences from the lock-down period into considerations in mind, you might want to reflect on whether you as course team like to maintain a shared course portfolio, e.g. as shared/collaborative document or as course-specific teacher room on Absalon.
Such a course portfolio can be a valuable aid for discussions at course kick-off or evaluation meetings and for knowledge sharing, when onboarding new teachers, when developing new content and when developing the course.
Course development using learning design methods
Learning or instructional design revolves around the concept of designing, developing and implementing teaching formats that consistently and reliably lead to learning. Methods for designing educational programs or courses may vary, yet typically comprise several phases including analysis, design, development, implementation, and evaluation4. Learning outcomes are typically defined and evaluated according to taxonomy levels as established by e.g. Bloom5 or Biggs6.
The rationale behind course development towards more student-activating, varied and blended formats is that academic engagement is the key factor in university students' well-being and learning, according to surveys and experiences from the Student Counselling Service. Key to the successful course development towards more varied and blended formats are didactical considerations and contextualization such as:
how to present, schedule and connect students' synchronous and asynchronous learning activities
when to apply and how to connect individual or group assignments
which feedback forms are suitable
which teaching methods - analog or digital – are best suited to reach the learning goals.

For the latter, educational technology may support the students' learning processes both when used in on-campus and blended/online settings in synchronous and asynchronous learning environments. As time spent on a subject is another and very important factor for improving learning, it is worthwhile noting that the more engaging and motivating teaching activities are, the more time students will spend on the subject.
Educational research has shed light on the impact of using on-campus and blended/online settings in synchronous and asynchronous learning environments7. Based on Laurillard's 'Conversational Framework' model of adult learning8, the University College London has developed the so-called "ABC (Arena Blended Curriculum) Learning Design" method9,10, which has been widely adapted at the universities within the League of European Research Universities (LERU) network11 and elsewhere.
The method is based on six universal learning types analyzed by Laurillard: acquisition, investigation, practice, discussion, collaboration and production8. The process involves a 90-120-minutes workshop in which teacher teams and students together with an instructional designer/learning consultant develop or revise courses utilizing the learning types in a storyboard approach.
At SUND, the Center for Online and Blended Learning facilitates the typically highly energetic workshops and supports subsequent actions such as revision of Absalon course rooms and production of digital course content. With 15 workshops facilitated at SUND so far, we observe that in addition to being an efficient hands-on tool for developing new study programs or revising courses to more varied or blended formats, the process stimulates didactical discussions even for teachers with limited experience of educational theory and fosters collaboration within the team of teachers.
Inspiration for varied teaching activities based on student learning types
Any student activity that fosters academic engagement will contribute to the students' learning, whether on campus or online, conducted synchronously or asynchronously. The learning types described by Laurillard - acquisition, investigation, practice, discussion, collaboration and production - are universal and reflect what many teachers already do in practice.
In the following, you can find inspiration for variations of each learning type – adapted from9 -  in an synchronous (on-campus or online) or asynchronous setting – as inspiration to vary own teaching practices, individually or – coordinated with the course leader - in the teachers' team. You could vary the style of your lecture and/or use different learning types in a didactically meaningful, varied order.
Acquisition – learning by listening, reading or watching
If you want to students to learn through acquisition, student activities encompass e.g. listening to a lecture or podcast, reading books or websites, and watching demos or videos, e.g. Open Educational Resources, OER, from the web.
| | |
| --- | --- |
| Synchronous (on-campus or online) | Asynchronous |
| Essays, reports | Essays, reports |
| Papers, posters | Producing and storing digital documents |
|  Videos | Formulating exam or quiz questions |
| Design | Wiki |
| Prototype, model | Animations |
| Performance | Models |
| Portfolios | Codes |
| Presentation | Presentations |
| Modelling | Videos |
| Coding | Blogs/Vlogs |
| Formulating exam or quiz questions | E-portfolios |
| … | Websites |
|   | Screencasts |
|   | … |
|   |   |
Inquiry – learning by exploration and self-study (alone or in groups)
If you intend that your students learn through investigation and inquiry, the students shall explore, compare and critically evaluate material such as texts, documents and resources that reflect the concepts and ideas taught in the course. These activities are likely to foster and catalyze critical thinking.
| | |
| --- | --- |
| Synchronous (on-campus or online) | Asynchronous |
| Collect and analyse data | Literature search |
| Examination of species | Compare and analyse a range of resources |
| Field trip | Using digital tools to assess resources and literature |
| One-minute paper (submitted on-campus or online) | Survey |
| Most difficult topic of teaching session (submitted on-campus or online) | Interview |
|  Online interviews | Observation |
|  … | Formulating quiz questions |
|   | Formulating exam questions |
|   |  … |
|   |   |
Practice – learning by hand-on experience
With this learning type, the students relate their action to the learning goals and use the feedback to improve their next action. The feedback may come from self-reflection, from peers, from the teacher, or from the activity itself.
| | |
| --- | --- |
| Synchronous (on-campus or online) | Asynchronous |
| Lab exercises on-campus with whole class | Quiz/Polls on Absalon |
| Lab exercises conducted by teaching staff and/or few students while being filmed (by student assistant or other teacher), students ask questions online via chat/unmute | Video of lab exercise |
| Practice-based projects | Calculations with data sets provided from lab exercise |
| Quiz/Polls in (face-to-face or online) lecture  | Interactive labs/Virtual reality/Augmented reality |
| Role playing activities  | Virtual field trips |
| Games | Online role play activities |
| Modelling | Screencasts |
| Internships (e.g. clinical) | … |
| … |   |
|   |   |
Discussion – learning by engaging into discussions and other people's views
Active participation in discussions fosters the students' skills in articulating ideas, formulating questions, and challenging own and others' views and debating. Discussions can comprise student-teacher and/or student-student interactions.
| | |
| --- | --- |
| Synchronous (on-campus or online) | Asynchronous |
| Discussions in class | Discussion forum (Absalon) |
| Tutorials | Discussion groups (Absalon) |
| Online tutorials | E-mail discussions |
| Seminars | Webinars |
| Discussion groups | … |
| Group work/discussions in break-out rooms |   |
| Interactive seminars |   |
| … |   |
|   |   |
Production – learning by applying knowledge to create a product
When creating a product, the students consolidate what they have learned by articulating their current conceptual understanding and how they can use it in practice.
| | |
| --- | --- |
| Synchronous (on-campus or online) | Asynchronous |
| Essays, reports | Essays, reports |
| Papers, posters | Producing and storing digital documents |
| Videos | Formulating exam or quiz questions |
| Design | Wiki |
| Prototype, model | Animations |
| Performance | Models |
| Portfolios | Codes |
| Presentation | Presentations |
| Modelling | Videos |
| Coding | Blogs/Vlogs |
| Formulating exam or quiz questions | E-portfolios |
| … | Websites |
|   | Screencasts |
|   | … |
|   |   |
Collaboration – learning by sparring and working together
The learning type collaboration means working together pairwise or in smaller or larger groups on a project with a shared output. Collaboration implies that students have to negotiate their ideas until they agree. Hence, this learning type can be used in combination with other learning types, yet is especially well suited to complement discussion, practice, and production.
| | |
| --- | --- |
| Synchronous (on-campus or online) | Asynchronous |
| Small group projects | Small group projects using online forums, wikis, chat rooms, etc. for discussing others' outputs |
| Discussion of others' output/products | Generating a joint digital product |
| Oral peer feedback |  … |
| Generating a joint product (report, model, art piece, …) |   |
| Collaborative notes |   |
| Collaborative products using digital whiteboards, Padlet, and alike |   |
| Feedback in online for a |   |
|  … |   |
|   |   |
An example
Try for instance restructuring your lecture by using some recorded material (produced by yourself or curated from the web), so your students get acquainted with the concepts asynchronously. Combine it with a synchronous Q&A session, either in the lecture hall or online via Zoom or Teams.
If you meet students for several times in a row, you could combine some recorded lecture material with a subsequent quiz followed by an on campus seminar accompanied by a discussion forum on Absalon.
If you find a good format, don't be shy and inspire others – e.g. at your own department meetings, in the 'Teachers Connect' webinar series organized by COBL or at UCPH's annual 'Make a Difference' conference.
Inspiration for alignment of expectations with students
(Modified from 12)
Creating a good and empowering learning environment often starts before the actual teaching activities take place – with aligning expectations between teachers and students.
Naturally, the extent of alignment will be dependent on your role (course leader, teacher seeing a class during the whole course or course module, or just meeting with the students for a single 2-hour-session); nonetheless, it will pay off aligning expectations before the class, no matter the physical setting of the teaching activity (on-campus, online or hybrid).
Contact the class, present yourself and ask how you can best collaborate for creating a good working environment – so how can you align expectations with the students? Here are some ideas:
Contact class representative(s)
Find out whether your class has class representatives – the course leader or study secretary can typically provide you with the contact information for the class representatives. Send them an e-mail, arrange for a short online meeting, ask them about group dynamics, experiences with on-campus/hybrid/online teaching, and anything else you find relevant.
Involving the class representatives helps to make sure that information reaches all students in a class (e.g. typically, classes have Facebook groups, where the class representatives can send a message to their fellow students, motivating them to actually read the mails you send through Absalon).
Send an e-mail through Absalon
Send an e-mail to the students of your class through Absalon (see here how). In this e-mail, provide the students with information on how you have planned the teaching activities.
You could provide information about:
practicalities (e.g. access to material on Absalon, if online: Zoom link, how you set up the Zoom meeting room, etc.),
your expectations to their preparation,
how you conduct your teaching (e.g. are you performing from the classroom or are you Zooming from home),
"Zoomiquette", e.g. regarding respectful manners, constructive tone, camera and microphone settings. You could ask them to have their camera turned on as this increases interaction. And clarify which could be understandable causes not to (e.g. home-schooling children jumping around behind them), and that you don't care if they are at the desk or in bed, in a business outfit or sweat pants, just that they contribute and interact,
the ways you planned interaction and feedback (e.g. break-out rooms, joint production of material via padlet, quizzes and polls (on campus or in Zoom, discussions in plenum, etc.)
if using digital teaching technology, possibly technical tips (e.g. in case you want them to use the whiteboard or annotate functions in Zoom. You could recommend that they should use an updated Zoom version and login with their university account, which gives access to more functionality.)
Make a short video with your 'house rules'
Record yourself (e.g. in a Zoom session with yourself) and provide the information mentioned above. Share this video with your class via Absalon. And by the way – house rules videos help setting the scene not only for seminars, but also for lectures.
Inspiration for providing space for social interaction in the digital learning environment
(Modified from12)
The large student surveys conducted at University of Copenhagen in 2020 showed that the students missed the informal social interaction with each other and the teacher in the online teaching situations.
In a recent article, Hodges and co-authors point of the difference between emergency remote teaching and meaningful distance learning13. Acknowledging learning as both, a cognitive and social process, educators can increase the students' learning outcome significantly if they design courses that embrace three major types of interactions: between (i) student and content, (ii) student and student, and (iii) student and teacher14. As the authors state, "face-to-face education isn't successful because lecturing is good. Lectures are one instructional aspect of an overall ecosystem specifically designed to support learners with formal, informal, and social resources"13
Here is some inspiration on how to offer an in-class virtual space for social interaction.
Set up the Zoom meeting so that students can join anytime. This will allow them to join the meeting similarly as they would enter a physical classroom – including the chitchat and small talk that comes along.
If you enter the classroom earlier than the scheduled starting time of your teaching session or just at the beginning of the session, consider an ice-breaker. This could be a fun fact of the day or a 'socializer' question to break the silence ("What was the most impressive thing you experienced in the last 24 hours?"; "What are you looking forward to this week?"; "How do you think a corona version of the Roskilde festival could look like?" etc.). This could also be a fun poll ("How many corona passes have you collected in the past 30 days?"; "If you would turn the camera from your alert and happy face, what would we see - dirty dishes/laundry/PlayStation?" etc.).
If you see the students over a longer period, consider making turns where each student comes up with a quiz with two true and one wrong statement about themselves.
Encourage the students to stay along in the breaks and talk with each other.
On a different note – remember breaks! It can be a good antidote against Zoom fatigue to have a number of shorter breaks for stretching legs, biobreaks and refill of essential beverages. An advanced option if you have a long classroom session: consider walk & talk group discussions where the students shall discuss a topic in a break-out room while they are going for a walk with Zoom on their cell phones.
Consider how you could limit the use of PowerPoint and/or stop sharing the screen whenever it is possible to increase the time where you can actually see your students.
If you have the opportunity to do so, stay in the online meeting for a few minutes longer to answer additional questions (as you would do in a classroom setting when students come to the desk afterwards).
Recommendations for the academic year 2021/2022
As teachers and teacher/course teams, use the momentum from the capacity development during 2020/2021 for individual and course team reflections (e.g. teaching portfolio, course portfolio)


As course leader, gather teachers and students and conduct an ABC learning design workshop. The subsequent follow-up (e.g. production and implementation of tools and methods agreed on in learning design workshops) will help to develop the course into a more variated and blended learning environment.


As teacher, teacher team or course leader, reconsider the classification into contact hours and preparation to accommodate that learning happens with all study activities, may they be synchronous or asynchronous. Hence, try how asynchronous study activities (quizzes, discussion fora, video material, to mention a few) in the Absalon course room could support the students' learning.


The pandemic has affected all students. Many first year students have struggled with the transition to University and well-being in lack of the normal social learning environment. Many older students have almost forgotten how studying on campus works, have lost motivation and need to find their way back. Those students taking up studies in the fall semester have experienced disrupted high school teaching, are likely deprived of regular routines and more vulnerable to stress and loss of motivation than what we are used to.
Hence, all of us teachers, not only those of us active in first semester courses, are encouraged to pay particularly attention to the learning environment and the students' well-being, e.g. by
being acquainted with and referring students to services by the Section for Study Service,
helping to establish a code of conduct for online teaching (where applicable)
taking measures to support the social component of learning in both on-campus and digital environments
actively implementing tips for study techniques in the teaching activities
creating the right balance ​by providing students with tools to priorities reading volumes and syllabus.
Framework for teaching and implementing changes
Teaching – how in practical terms?
Even through "Corona will be history one day", the practical terms and conditions for teaching in the academic year are at current still a moving target. We expect return to campus, yet for updated practical information, always refer to the information provided by the Section for Student Affairs and study leaders. Also, the FAQs for Teachers (Link outdated and removed 03/22) will be updated continuously.
Implementing changes – what is possible right away?
Many teachers and course leaders will work with a transition to a new normality and like to experiment with teaching formats and aim at implementing changes.
In order to comply with the University's quality assurance procedures, please pay attention to the following:
Changes that do not affect defined learning outcomes, course descriptions or curricula:
Teachers/course leaders

are welcome to change teaching, as long as the changes can be accommodated within the framework of the current course description.

In other words, course leaders, may introduce m

inor changes that are within currently defined learning outcomes, course descriptions or curricula in the coming academic year.

Changes that require changes to course descriptions or curricula
Proposals for major changes, i.e. those that require changes to course descriptions or curricula - must enter the ordinary annual cycle. That means that proposals must be submitted during the autumn to the study board if they are to take effect from the following autumn semester (as of 1 September 2022). Each programme coordinator will communicate deadlines.
Examples for major changes are changes to learning outcomes or changed distribution of contact hours. You could also consider reframing the category "preparation" in course descriptions with e.g. "(interactive, collaborative) study activities" and "self-study" will clarify didactical concepts and help aligning expectations between students and teachers. As additional benefit, teachers who produce teaching material and digital /e-learning content (such as quizzes, discussion for a, etc.) will see their efforts reflected in the course descriptions.
Support at SUND
Capacity development
COBL Summer School for teachers
Course and curriculum design
Teacher networking and sparring
References
Jensen LX, Karstad OM, Mosbech A-M, Vermund MC, Konradsen F. Experiences and challenges of students during the 2020 campus lockdown. Results from student surveys at the University of Copenhagen. University of Copenhagen; 2020 Aug.
Arbejdsgruppe vedr. evaluering af online undervisningen (under COVID19-nedlukningen). 2023-strategi: Digitalisering af uddannelserne, Undervisersurvey. University of Copenhagen; 2021 Apr p. 2.
Talbert R. Flipped Learning Can Be a Key to Transforming Teaching and Learning Post-Pandemic - EdSurge News. EdSurge. 2021. https://www.edsurge.com/news/2021-04-02-flipped-learning-can-be-a-key-to-transforming-teaching-and-learning-post-pandemic (31 May 2021)
Merrill MD, Drake L, Lacy MJ, Pratt J, Group the IR. Reclaiming Instructional Design. Educational Technology Educational Technology Publications, Inc.; 1996;36:5–7.
Bloom BS, Engelhart MD, Furst EJ, Hill WH, Krathwohl DR. Taxonomy of educational objectives: The classification of educational goals. Handbook I: Cognitive domain. New York: Longman; 1956.
Biggs JB, Collis KF. Evaluating the quality of learning: the SOLO taxonomy (structure of the observed learning outcome). Educational psychology series. New York: Academic Press; 1982.
Means B, Bakia M, Murphy R. Learning Online: What Research Tells Us About Whether, When and How. Routledge & CRC Press. https://www.routledge.com/Learning-Online-What-Research-Tells-Us-About-Whether-When-and-How/Means-Bakia-Murphy/p/book/9780415630290 (31 May 2021)
Laurillard D. Rethinking University Teaching : A Conversational Framework for the Effective Use of Learning Technologies. Routledge; 2013.
ABC Learning Design – Sprint design your courses and programs in just 90 minutes. https://abc-ld.org/ (25 May 2021)
Young C, Perović N. Rapid and Creative Course Design: As Easy as ABC? Procedia - Social and Behavioral Sciences 2016;228:390–395.
League of European Research Universities. LERU. https://www.leru.org/?cGFnZT04 (25 May 2021)
Schmitt N. Inspiration for creating a good learning environment in online seminars. University of Copenhagen; 2021. https://cobl.ku.dk/news/2021/inspiration-for-creating-a-good-learning-environment-in-online-seminars/ (25 May 2021)
Hodges C, Moore S, Lockee B, Trust T, Bond A. The Difference Between Emergency Remote Teaching and Online Learning. 2020. https://er.educause.edu/articles/2020/3/the-difference-between-emergency-remote-teaching-and-online-learning (18 December 2020)
Bernard RM, Abrami PC, Borokhovski E, Wade CA, Tamim RM, Surkes MA, Bethel EC. A Meta-Analysis of Three Types of Interaction Treatments in Distance Education. Review of Educational Research American Educational Research Association; 2009;79:1243–1289.
Topics
Glossary
Campus teaching refers to teaching activities that take place on campus in the presence of the teacher(s) and students. Other terms commonly used are physical teaching, face-to-face teaching.
Blended learning environment refers to a course design, where you combine face-to-face and online teaching activities. Activities can take place synchronously or asynchronously.
Online teaching refers to activities that take place online - e.g. an online webinar or an online course where you/the students do not show up physically, but participate online from a distance. Activities can take place synchronously or asynchronously.
Hyflex teaching is a form of teaching that is hybrid, i.e. there are simultaneously and synchronously both, physical participants and online participants via live streaming, e.g. via Zoom.